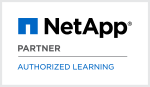 Designing the FlexPod Solution (FPDESIGN)
Who should attend
Network Engineers
Network Administrators
System Engineers
Server Administrators
Prerequisites
Basic understanding of storage operations
Basic knowledge of server and server virtualization
General knowledge of networking technologies
Course Objectives
Describe the FlexPod Solution
Identify FlexPod Design Requirements
Identify the supported Cisco UCS components
Identify the supported NetApp storage components
Identify the supported Cisco Nexus components
Describe the FlexPod topology options
Describing FlexPod validated management solutions
Describe the FlexPod use case with VMware vSphere 6.0 and IP-Based Storage
Describe the FlexPod use case with Red Hat Enterprise Linux OpenStack
Follow On Courses
Course Content
Designing the FlexPod Solution is a 2-day instructor-led course where you will learn to evaluate the FlexPod solution design process with regard to the contemporary data center challenges. The course provides a comprehensive understanding of the reconnaissance and analytics assess computing solution performance characteristics and requirements. In addition, this course will describe the hardware components of the FlexPod and the process for selecting proper hardware for a given set of requirements.
Updated features:
Cisco UCS
Cisco ACI Architecture
Nexus 9k
Microsoft Hyper-V and VMware 6
Red Hat Linux OpenStack
All Flash FAS
Classroom Training
Duration 2 days
Price
(excl. tax)
South Africa:

13,500.- ZAR

NetApp Training Units:

24 NTU
Dates and Booking
Click on town name to book
Schedule
This computer icon in the schedule indicates that this date/time will be conducted as Instructor-Led Online Training.